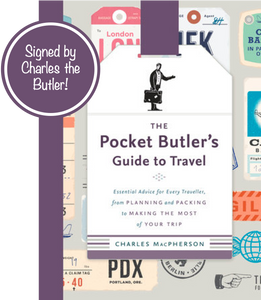 A signed hardcover copy of indispensable travel advice from Everyone's Favourite Butler in The Pocket Butler's Guide to Travel.
A world authority on the art of travel, Charles MacPherson has planned itineraries for celebrities and business leaders, and trained the staff of some of the world's leading hotels. In this easy-to-follow guide, you will find his tips on how to:
Plan Your Trip: choose luggage and accommodations, master wrinkle-free packing, secure an upgrade and manage your schedule.

Travel in Style: for business or pleasure; by plane, train, cruise ship, coach, yacht, car or even private jet.

Make the Most of Your Stay: get help from the concierge (every hotel's best-kept secret) and navigate international dining etiquette and tipping culture.

And much more! Slip this compact book into your carry-on luggage for a trusted companion wherever your travels may take you
Note: This book is signed by Charles MacPherson. If you would like your book personalized with your name, please enter it in the personalization box before adding it to your cart. Personalization may take up to 3 weeks to dispatch.