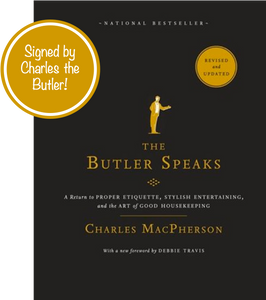 Revised and updated signed paperback edition of the national bestseller and "definitive guide to the art of living well" (Charlotte Empey, editor-in-chief of Metro), including a new foreword by Debbie Travis and updated sections on business etiquette and everyday entertaining.
Widely considered a world expert in butlering, Charles MacPherson lays out the essentials of household management in this wonderfully illustrated style, entertainment and etiquette guide. For anyone who rents or owns--be it a small urban condo or a lavish country estate--The Butler Speaks has everything you need to simplify, organize and care for your home.
Note: This book is signed by Charles MacPherson. If you would like your book personalized with your name, please enter it in the personalization box before adding it to your cart. Personalization may take up to 3 weeks to dispatch.