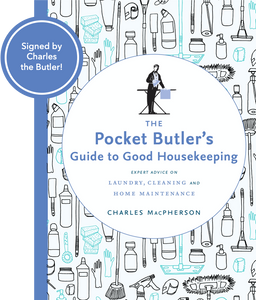 Order a signed hardcover copy of expert housekeeping advice from everyone's favourite butler in The Pocket Butler's Guide to Good Housekeeping.
After over 30 years as a professional butler and household manager, Charles MacPherson knows a thing or two about keeping a home clean and organized. He has poured his vast knowledge and expertise into this pocket-sized volume, perfect for easy day-to-day reference or to guide your next marathon cleaning session.

Everything you need to know is here. With step-by-step instructions for cleaning, organizing, and maintaining every room in your home, The Pocket Butler's Guide to Housekeeping comprises information-packed chapters on cleaning, laundry, organization, and more. Wondering how to tackle a fresh stain? Looking for recipes for natural and gentle cleaning products? Want to finally master those crisp hospital corners for making your bed? Look no further than this definitive cleaning caddy companion.

Note: This book is signed by Charles MacPherson. If you would like your book personalized with your name, please enter it in the personalization box before adding it to your cart. Personalization may take up to 3 weeks to dispatch.